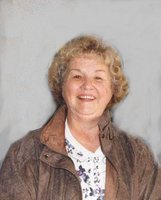 Malrey "Bea" Beatrice Collier
Age 79, of Fairgrove, died Monday, January 9, 2017, in Essexville. A funeral service will take place at Martin Funeral, Cremation & Tribute Services-Fairgrove on Friday, January 13, 2017, at 11:00 am. Pastor Penny Parkin to officiate with burial to follow in Brookside Cemetery. The family will receive friends at the funeral home on Thursday, January 12, 2017, from 3:00 pm until 8:00 pm and on Friday, from 10:00 am until time of service at 11:00 am.
Mrs. Collier was born June 23, 1937, in Monticello, Arkansas, to the late Mr. and Mrs. Barney Oped and Bernice (Arnold) Brown. For many years, Bea worked at the Dairy Barn in Reese. She enjoyed many hobbies over the years, including traveling all over the United States with her late husband, Robert Collier Sr., finding hidden treasures at garage sales, and collecting: stamps, cookbooks, and antiques. Bea was well known in the Fairgrove community for being a part of the Women's Auxiliary at the Fairgrove V.F.W. Post #7486, and contributed to her community whenever she had the chance. There wasn't a task too big or small for Bea when it came to community service, and she will be greatly missed by many people.
Left to cherish her memory are her: son, Bob Jr. and wife, Cathy Collier; six grandchildren; numerous great-grandchildren; brother, Scott Brown; two sisters: Mary Forrest, and Peggy Ashcraft. She was preceded in death by her parents, husband, Robert Collier Sr., in 2006, son John Arthur Sowatsky, and daughter Linda K. Therman.